Background to the Nican Tlaca University of Cemanahuac
Personal background -
I grew up on the East Side of Salinas, California. My parents were migrant farm workers in the lettuce and strawberry fields of the Salinas Valley. I lived in an especially violent section of East Salinas: Garner Avenue. (Today, Garner Avenue has become one of the bloodiest streets in "the United States".)
I was able to escape Garner Avenue by attending a private Catholic junior high and high school across town in "The White Area". This private school environment provided me with the only real structure in my life. I became a star student and captain of the wrestling team. This White World was where I wanted to be, I thought. I never wanted to go back to that "disgusting Mexican world". This led to me going to a Catholic university on scholarship. All seemed well on the surface, but I always felt that this White World did not seem designed for me, a Mexican. Something was very wrong and racist with this society I was forced to live in. But I could not even articulate the problem, much less the solution.
1993 -
In college, my roommate was President of the campus Mecha club. While I got to meet several "famous Chicanos", I noticed that none of them had any kind of serious historical knowledge, much less any real future vision or cultural plan. Lots of chest-thumping and nostalgia for the 70's, but little knowledge about civilizations, achievements, or any kind of ideology that wasn't Eurocentric. I myself didn't know any better at the time.
1996 -
First saw Mexica Movement's web page (original version)
At first, I didn't understand the "Indigenous" nature of the page, but I liked the call for a "think tank" that would serve our interests. I put the page to the side and continued down the flawed path of "Chicano culture". I had no idea as to how rich our Indigenous Civilizations really were.
Late 90's thru early 2000's:
Traveled around the world, meeting British, Jewish, African Diaspora, German, Italian, Greek, Arab, Australians, New Zealand Maori, and many other peoples. These meetings stimulated questions in myself as to my own identity, for which I had few answers. For some weird reason, it was when I met White South Africans ("Afrikaaners") that I really began to realize the power of having your own language, your own history, and your own culture.
A painful moment was when I stood outside of Sir Isaac Newton's old house in London -- now a library next to Leicester Square -- and I thought to myself, "Why don't we (Mexicans) have any geniuses like this? What is it about whites that makes them superior to us?"
1998:
Chicano History Group - Yahoo Groups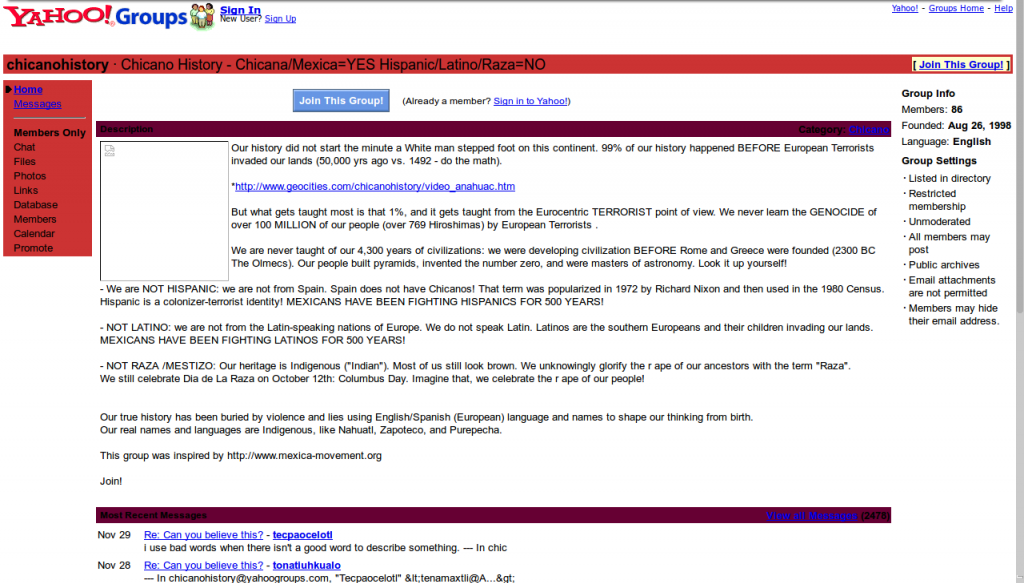 http://web.archive.org/web/20031220061349/http://groups.yahoo.com/group/chicanohistory/
In 1998, I started an online Chicano History discussion group.
In 2002, I began to change the format to promote the idea that "Chicanos are Indigenous".
1999:
Discovered the book "Lies My Teacher Told Me" which shifted my views on how history was written.
2001:
Discovered a book entitled "Aztecas del Norte" by Jack D. Forbes
While in a used bookstore in Grass Valley, CA, I found an old, used book that promoted the idea of Indigenous identity for Mexicans (Chicanos). The book contained a chapter called
"Mexica As An Identity For Mexicans"
. I remembered that old Mexica Movement page I saw back in 1996 and began viewing it again, this time with fresh eyes.
2001 (August):
Began speaking to Mexica Movement by phone. Many of my longtime questions were answered and I finally found the "historical narrative" I had been seeking. This narrative was supported by numerous books that I had never heard of: Daily Life of the Aztecs, Mexico Profundo, The Florentine Codex, American Holocaust, The Colonizer's Model of the World, and many more.
2002 - 2009:
Chicano History page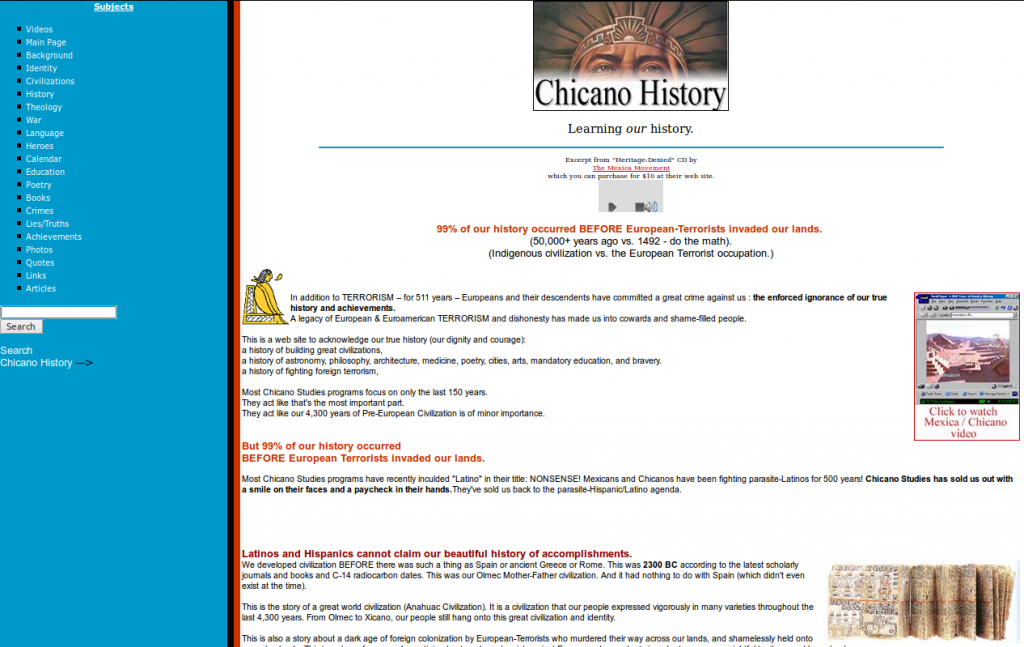 http://web.archive.org/web/20050215212540/http://www.geocities.com/chicanohistory/index2.htm
Inspired by a new Indigenous focus, I created a web site that attempted to promote our history through categories: Civilizations, Achievements, Poetry, etc.
Interesting fact:
Before YouTube was a household name, this Chicano History site was already streaming numerous online videos using the RealPlayer format: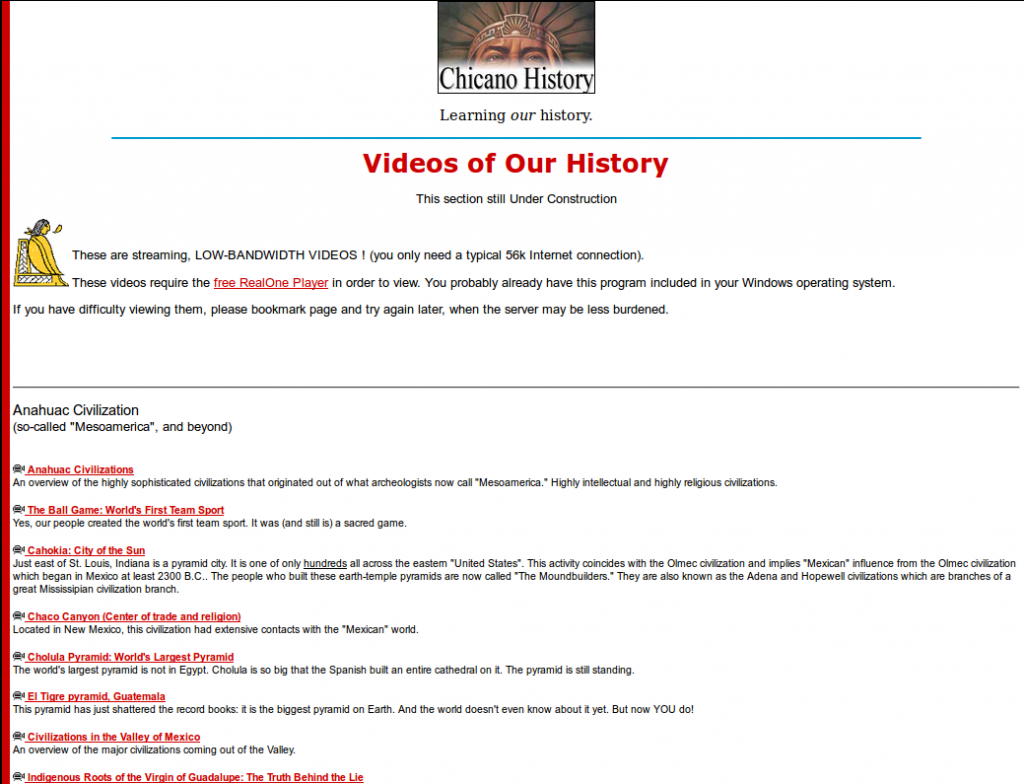 http://web.archive.org/web/20050113194358/http://www.geocities.com/chicanohistory/video_anahuac.htm
2005 - 2012 (April) -
Involvement with Mexica Movement
- Confronted the Minutemen/Save Our State
http://www.youtube.com/watch?v=a_YW3bilXpU
- Confronted Lou Dobbs
http://www.youtube.com/watch?v=VS14BYsgsYc
- Filmed the MacArthur Park police brutality shootings from inside the crowd
http://www.youtube.com/watch?v=QYVWAqSRBUU
- Presentations on our
history
and
achievements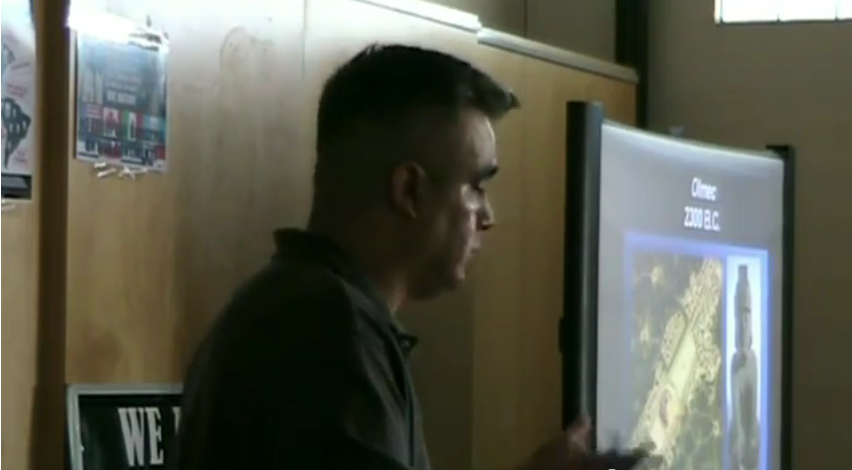 - Wrote
two
articles selected as
"Top 10 Stories of the Year"
by Indymedia for 2007 (the Maywood Police department scandal, and the Leimert Park/Minutemen confrontation)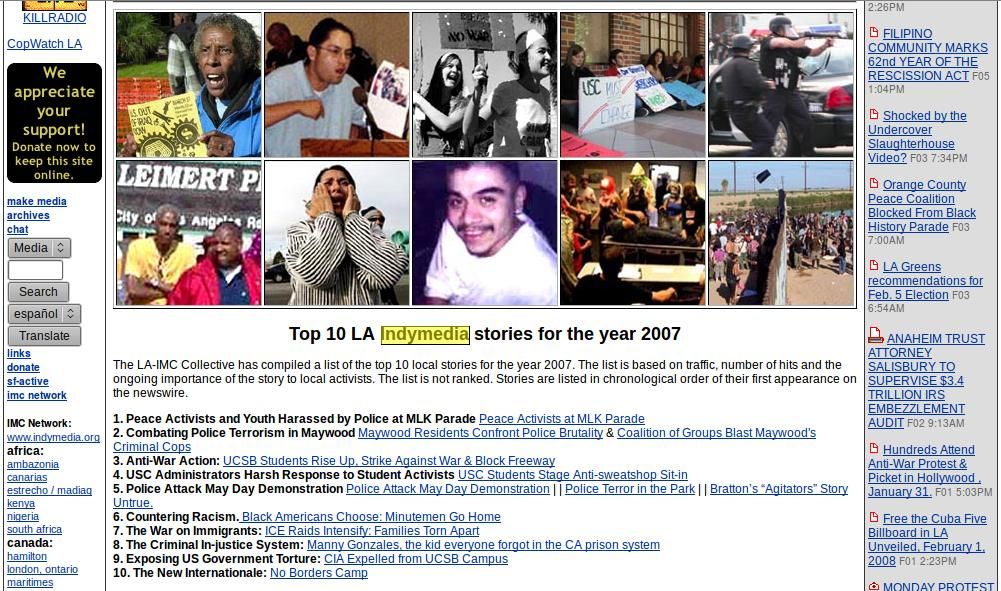 - Set up YouTube account (with first videos), web tracking system, PayPal account, fund raising, created "Credentials" page
- Attended protests, outreach events, and came up with poster ideas
- Took the majority of photos at events (that's why I am never seen in any photos).
- A protest confrontation with a White Supremacist made the front page of the LA Times and CNN web sites.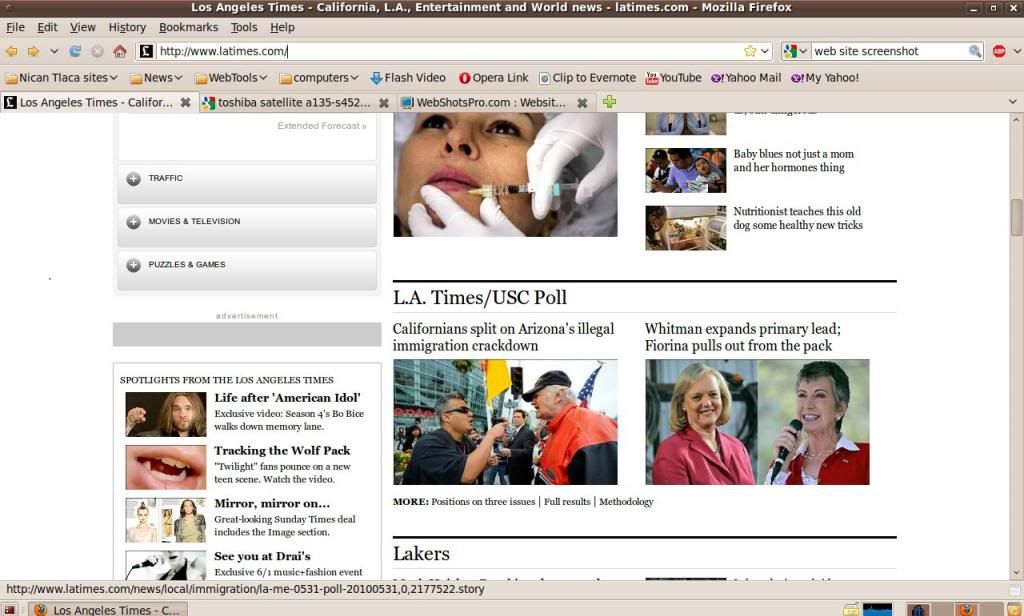 2012 (December):
Nican Tlaca University of Cemanahuac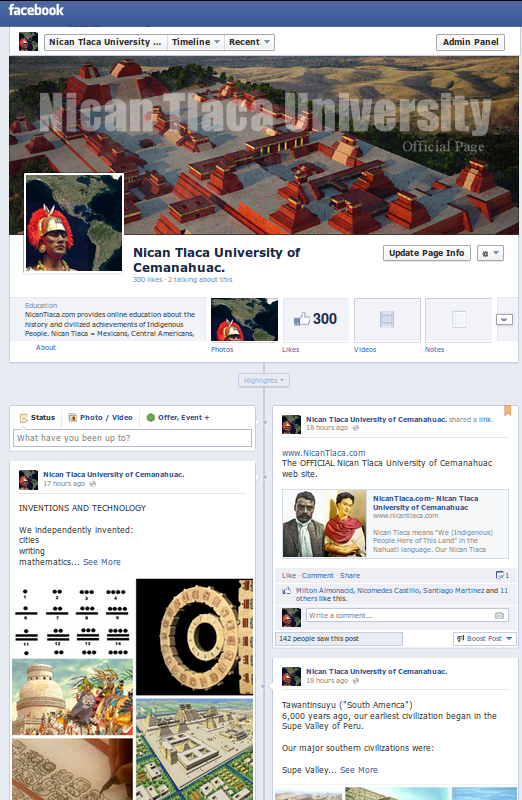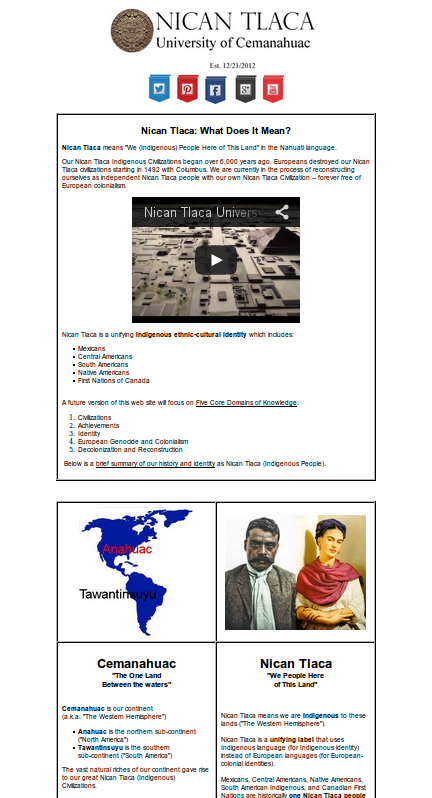 www.NicanTlaca.com
www.facebook.com/NicanTlaca
I decided to return to the spirit of my old "Chicano History" page, but this time with a "Nican Tlaca" focus. This time, with a more academic seriousness and a Decolonial direction (but Decolonization is not enough, we need to reconstruct our own Nican Tlaca Civilization to replace European Colonialism). A lot of time has been spent planning out the future direction, pedagogy, technology platform, and project ideas. This is a work-in-progress, and it is aimed at getting inside our classrooms with educational materials. We have to change the "software" in the minds of our people. Most of our people will not find this to be "sexy" because it does not involve chest-thumping, yelling on street corners, tattoos, rap music, or New Age pseudo-science.